A Comfortable Place to Call Home
4609 Hilltop Street Papillion, NE 68133
 |
(402) 291-9777
Hillcrest Mable Rose has provided memory support and assisted living in Bellevue for more than two decades. If your loved one requires some assistance with daily living activities, our assisted living services are designed to allow residents to maintain the highest level of independence possible while receiving the compassionate care they need. Our memory support program provides individualized care in a comfortable, secure setting with a variety of activities and events catered to our residents' interests.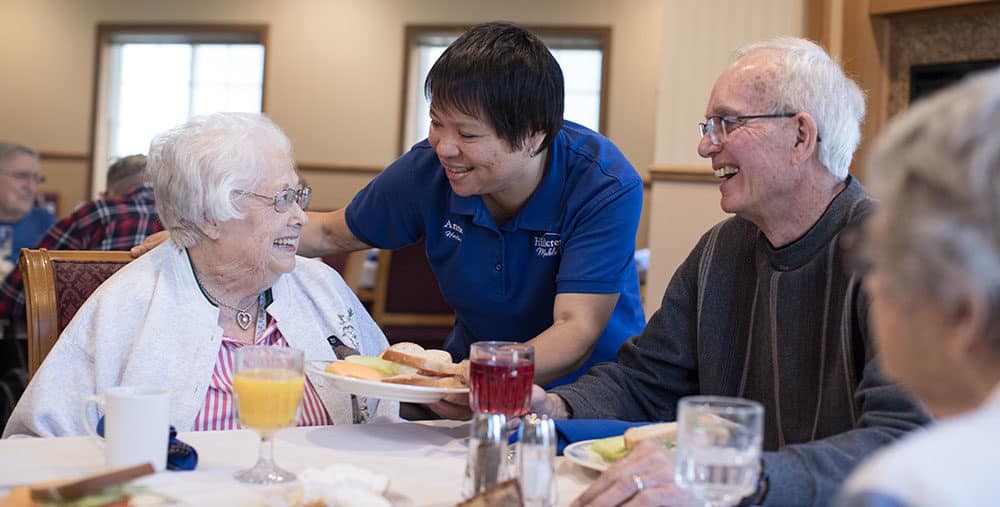 "Thank you for a wonderful evening with 'Music By the Fountain.' A thank you seems so small compared to all you've done, but it comes from the heart. I know it was a lot of extra work for everyone. May your thoughtfulness find its way back to each of you."
"…Thank you also, for helping to provide such a wonderful new home for (resident name). I have had the opportunity to meet many members of your staff and their care and professionalism is off the charts. She also speaks glowingly of all the folks I don't run into: those who do her nails and hair and those amazing bubble baths. I also heard about the fantastic Christmas celebration which I missed and all the movies and bingo and musicians you bring in. I did, however, make it for the art show and the incredible Mother's Day spread. Wow!"
"Thank you for providing the delicious barbeque and music around the fountain last week, and the weather couldn't have been more beautiful! You work so hard to make our mother happy and then you work extra to make her family happy with all the extra special events. We appreciate your kindness and genuine concern for mom and each individual resident. It is a blessing to know mom has been safe in your hands for almost a year!"
How can we help you today?
Hillcrest Health Services complies with applicable Federal civil rights laws and does not discriminate on the basis of race, color, national origin, age, disability or sex, and does not exclude people or treat them differently because of race, color, national origin, age, disability or sex. Please click below for the full notice.
© 2022 Hillcrest Health Services. All rights reserved.