The Benefits of Post-Acute Rehabilitation Care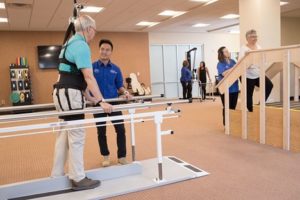 The older we are, the more frustrating it can be getting back into good health after an illness or injury. Slower rehabilitation happens because older adults have what's called a "decreased physiological reserve." (The capability of an organ to carry out its activity under stress is known as physiologic reserve). Generally, a healthy individual will attain the peak of their physiologic reserve at 25 years of age. After that, the reserve starts to decline as the individual ages. Because of this decrease, it takes older adults longer to recover from illness and injury.
For older patients, it's not just about recovering from an injury. It's often about recovering other cognitive, balance, and strength functions that could decline during a hospital stay.
Post-acute care provided by Hillcrest Health Services provides for a smooth transition from hospital to home.  It promotes the functional recovery of older adults, prevents unnecessary hospital readmission, and avoids premature admission to a long-term care facility. Hillcrest's post-acute facilities are Medicare-certified and accept Medicare and most private insurances.
Hillcrest's Post-Acute Care Program
Hillcrest Healthcare offers post-acute care rehabilitation at 4 different locations in Nebraska:
These programs help to transition from the hospital to home. We know how to help the patient recover most quickly without causing another injury or hospitalization.
At Hillcrest, our facilities offer a comfortable environment for all guests by providing only private transitional care. While we're focused on rehabilitation and ensuring our guests get the most out of their experience, we also respect their independence. At Hillcrest, we have over 25 years of experience when it comes to post-acute rehabilitation. As a result, we understand what it takes to get our guests back to their optimal level of function.
Our Post-Acute Rehabilitation Team
Chief Medical Officer Dr. Anthony Hatcher oversees our medical care. Before joining Hillcrest Health Services, she spent more than 20 years working for Alegent /CHI Health as a practicing clinical physician. Additionally, our team of therapists are not third-party contractors that we invite in a few days per week; instead, they are exclusively employed by Hillcrest. We take great pride in our team and make sure they have state-of-the-art therapy equipment to provide innovative physical, occupational, and speech therapy to help speed up recovery.
Our Excellent Rehabilitation Facilities
We encourage you to take a virtual tour of all four of our post-acute rehabilitation facilities. Just click on the name of the facility below:
Hillcrest Health and Rehab in Bellevue
At Hillcrest Health and Rehab, we began developing our post-acute care services in the early 90s. Since then, we have assisted thousands of patients in the transition from hospital to home, utilizing a variety of therapies, including physical, occupational, speech, and aquatic. In addition, we host the largest rehab gym in the region (10,000 square feet).
Hillcrest Country Estates: Rehab Cottage in Papillion
Start your road to recovering from an injury, illness, surgery, or hospital stay. At the Rehab Cottage located in the Hillcrest Country Estates, our guests feel an incredible sense of warmth, compassion, and support from a team that is 100% dedicated to their recovery.
Hillcrest Millard offers over 25 years of experience in post-acute rehabilitation. Among staffing our professionals, we also provide 19 specialty rooms with piped-in oxygen for guests with cardiopulmonary diseases.
Hillcrest Firethorn in Lincoln
Hillcrest Firethorn offers years of experience providing best-in-class care for aging adults through our continuum of services. We have been recognized nationally for our leadership and innovation. In addition, Firethorn provides post-acute rehabilitation services in the newest and most beautiful post-acute center in Lincoln.
Learn more about our post-acute rehab programs
Contact us today to learn more about our post-acute rehab programs. You can also learn more about it from our website.