Hillcrest Holiday Food Drive - Dec. 6-17
Mark your calendars! It's just about time for our Holiday Food Drive. Thanks to your generosity, we were able to donate more than 3,000 pounds of food and other items to area pantries last holiday season.
The sixth-annual Hillcrest Holiday Food Drive will begin on Monday, Dec. 6, and run through Friday, Dec. 17. Starting Dec. 6, collection boxes will be placed near the entrance at each Hillcrest location. We invite team members, residents and families to donate non-perishable food and other items to support our local food pantries.
For our Bellevue communities, items will be donated to the Bellevue Food Pantry. Their current needs include:
Canned chicken, tuna or salmon (boneless)

Pasta and pasta sauce

Rice, pasta or potato instant sides

Hamburger or Tuna Helper

Jelly

Syrup
For our Papillion and Omaha-area locations, items will be donated to the Tri-City Food Pantry. Their most-needed items include:
Canned tuna

Canned vegetables (peas, carrots, beans)

Saltine crackers

Laundry and dish soap

Pet food (cat, dog)

Rice, pasta or potato instant sides
Items collected in Gretna will support the Gretna Neighbors. Top needs include:
Canned ham or beef

Small packages of coffee, creamer or sugar

Peanut butter and jelly

Cleaning supplies, including laundry soap, fabric softener sheets and Clorox

Kitchen supplies, including zipper storage bags, trash bags, foil and cling wrap

Bathroom necessities, including toilet paper, deodorant, toothbrushes and first aid supplies
Items collected at our Lincoln locations will be given to the People's City Mission. Their current needs include:
Granola bars

Bottled water

Cleaning supplies, including sanitizing wipes

Hand sanitizer

Face masks and latex gloves

Men's deodorant
Look out for the collection boxes and informational flyers at your service line early next month. We appreciate any and all donations. Thank you!
Hillcrest Breaks Ground on Freedom Village, the Metro's First "Pocket Neighborhood"
Hillcrest leaders, community leaders, project partners and the first Freedom Village depositors smile for a photo before officially breaking ground on the new 55 and better pocket neighborhood.
Earlier this month, Hillcrest broke ground on Freedom Village of Bellevue, marking a new type of service for Hillcrest. Freedom Village will be a place for active adults, age 55 and better, to choose to live the way they want in a maintenance-free neighborhood.
Pocket neighborhoods have been popping up around the country, and we're the first to introduce this concept to the Omaha market. A cluster of homes surrounding a shared green space, pocket neighborhoods enable residents to truly get to know each other and enjoy a recreational lifestyle. Freedom Village features a total of 28 garden homes and 28 private apartments in a secure, modern building. The design allows neighbors to live a full, active life without having to worry about maintenance, landscaping and snow removal. The campus will feature many amenities including a Clubhouse and fitness gym, a dog park, community gardens and several gathering spaces.
The first of the garden homes are scheduled to be ready for occupancy in the fall of 2022, with the apartments scheduled to welcome new residents in early 2023. More information about Freedom Village of Bellevue can be found at freedom-village.com.
Hillcrest Receives McKnight's Tech Award for Fourth Year
Hillcrest Health Services was recently awarded the Bronze Award in Quality in the Skilled track for the interactive technology at the Hillcrest Country Estates Dimensions Cottage. The McKnight's Excellence in Technology Awards are prestigious annual awards recognizing communities for advancement in their technology efforts.
This year's Bronze Award makes Hillcrest the only community to be recognized in the awards four years in a row! In 2020, Hillcrest received a Silver Award in the Keep It Super Simple category (Senior Living track). In 2019, Hillcrest received a Silver Award for Innovator of the Year (Senior Living track). And in 2018, Hillcrest received a Gold Award in the Quality category (Senior Living track) for the Montessori method in dementia care.
Shout-out to Dr. Anna Fisher, HHS Director of Education, and the Cottages team for this year's accomplishment!
Hillcrest Claims Top Spots in Contests
Congratulations to the Hillcrest teams for being voted the best in a variety of categories in the recent Best of Omaha and Sarpy County People's Choice Awards.
In the Best of Omaha, Hillcrest placed:
First for Hospice Care
First for Adult Day Center
Second for Memory Care Facility
Third for In-Home Non-Medical Care
In the People's Choice Awards, Hillcrest/Innovate claimed the winning spot in all 11 relevant categories, including:
Assisted Living Community
Home Health Provider
Hospice Care
Long Term Care Facility
Skilled Nursing Facility
Memory Care
Best Place to Work (Over 50 Employees)
Retirement Community
Occupational Therapy
Physical Therapy
Speech Therapy
Congratulations, teams! And thank you to all who voted!
 

Hillcrest Briefs
 Hillcrest Health Services
 Leadership Academy 102 Grads
Congratulations to the following team members for their recent completion of Leadership Academy 102! 
From left to right, top to bottom: Jonathan Anderson, HHC Lincoln Director of Branch Operations; Jacey Bahey, HRS Therapy Coordinator; Spencer Bartlett, HHS Regional Director of Customer Navigation; Tammy Deemer, HHS Regional Area Director; Nicole Ellermeier, HMR Administrator; Barry Emerson, HFT Administrator; Kimberly Garcia, HCS Director of QAPI; Cara Gunter, HSL Clinical Care Coordinator; Stacy Holmon, HML Director of Transitions; Michele Miller, HHS TMD Coordinator; Mike Rehfeldt, HOS Administrator; Dixie Tonacchio, HSR Director of AL Health Services; Lauren Wright, HHC Administrator.
Hillcrest Caring Companions
Holiday Gifts
Hillcrest Caring Companions' Emily Osborn gets wrapped up in her work preparing holiday gifts for clients and team members. Each year the service line makes special deliveries to clients' homes to give a gift of appreciation. This year, warm, cozy blankets are under the Christmas tree for both caregivers and clients. 
Hillcrest Country Estates Grand Lodge
Scarecrow Decorating Contest
To celebrate fall the HGL Fun Committee hosted a scarecrow decorating contest. All departments across HGL had an opportunity to compete. Residents and team members had the day to vote for their favorite scarecrow. The AL/MS team took first place, with Myramel Ganir leading the charge. Environmental Services came in a close second, led by Stacia Bell. Everyone enjoyed the friendly competition!
All four scarecrow entries spend the day on the stage in the Grand Hall. Entries 1 (AL/MS team) and 2 (ES team), respectively, took first and second.
Hillcrest Firethorn
Halloween Trick-or-Treat Event
Hillcrest Firethorn, Hillcrest Home Care and Innovate Physical Therapy partnered with neighboring businesses for trick-or-treating around the HFT building. Our guests and team enjoyed seeing more than 100 costumed kids and their families on a beautiful, very windy, evening.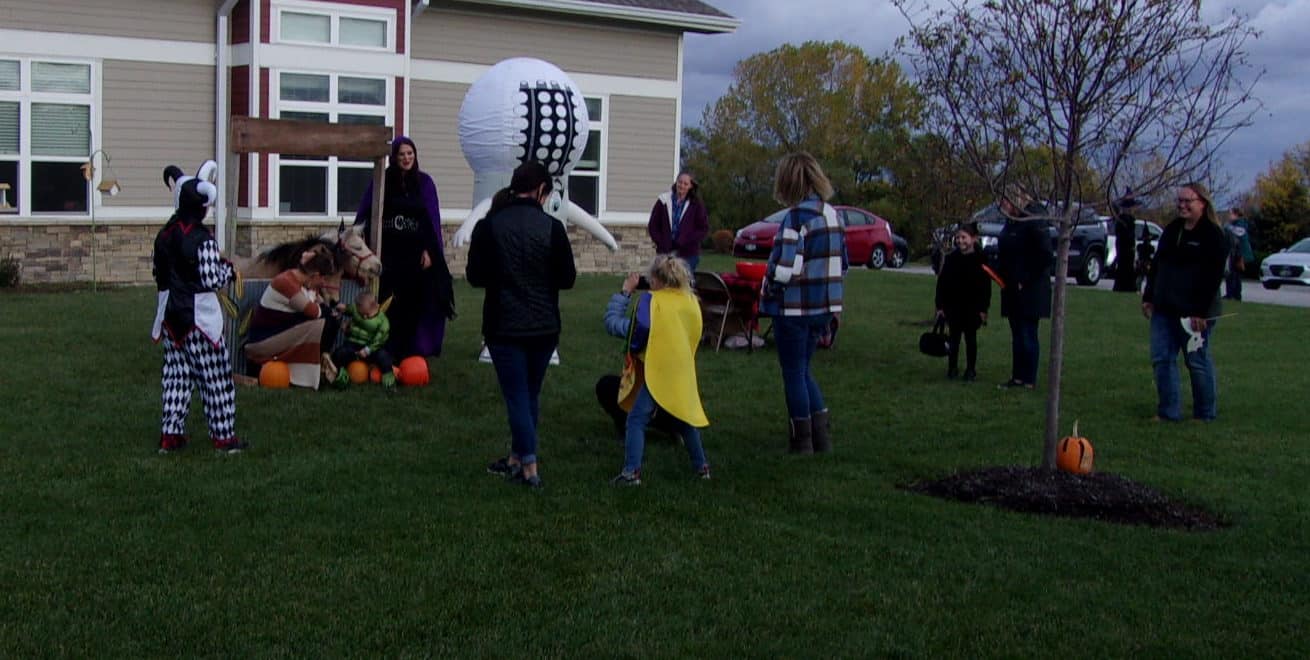 Kids enjoy the selfie station with miniature ponies, brought by one of our partners, NRECA.
Hillcrest Hospice
Purse Bingo Event
HOS Iowa leadership and members of the HHS Customer Navigation/Marketing team partnered together to put on an exclusive Purse Bingo event for Hillcrest Hospice Iowa referral sources at Barley's on Nov. 16. Over appetizers and drinks, guests enjoyed Hillcrest-style Bingo and took home a variety of prizes. It was a fun night for all!
Above left: display of designer handbags, wallets, wristlets, wine, etc. Above right: custom Hillcrest Hospice Bingo cards.
Enhancing Lives Through Exceptional Customer Care
Each month, we spotlight team members who exemplify our mission of enhancing the lives of aging adults.
Arlene Rouch, Culinary Ambassador
Hillcrest Firethorn
We receive many compliments from our guests about Arlene. She is the friendly voice they hear when they place their orders every day. She is great at helping guests navigate the menu and dietary restrictions. Our guests are happy to see her when she delivers trays as well. Arlene doesn't know the phrase, "it's not my job." She sees something that needs to be done and learns to do it to support her team. She also picks up extra shifts and does all of it with a smile she shares with her coworkers and our guests.
-Barry Emerson, Administrator
Terrie Walker, Care Navigator
Hillcrest Home Care
Congratulations to the Hillcrest Home Care 2021 Quarter 3 Pinnacle Award Winner…Terrie Walker! Terrie is a compassionate nurse who serves as a Care Navigator for the home care team. Her focus area is working with prospective clients who are leaving the hospital and coming onto home care services. She interacts with hospital discharge planners, clients, families and with the HHC field nurses and therapists to ensure a smooth transition for our clients. She is a frequent nominee for Hillcrest Way STAR awards and does many amazing things behind the scenes to make the stressful situation of a hospitalization just a little easier for all involved. Way to go, Terrie!
-Lauren Wright, Administrator
From the Desk of
Sharyl Ronan
Dear Team Members,
It is an important reminder that no matter what we are faced with in work or life, we have true blessings to be thankful for! I know this last year-and-a-half has not been easy, but you all are the reason we can live out our mission: to enhance lives! 
For me, I am thankful for this wonderful family of Hillcrest team members and for your commitment to serving seniors and all of our customers…WITH OR WITHOUT A PANDEMIC! Whether it is by providing world-class therapy as a member of our therapy teams; making wonderful and nutritious food for our residents, guests and elders; providing outstanding clinical care at all levels of service, from home health or hospice to skilled nursing and assisted living/memory care; working in a support role in our facility-based operations or a support role in our Home Office; or by being a Caring Companion for our customers who may just need regular visits or friendship…you make a difference every day for Hillcrest!
I want to remind everyone about the fun things we are doing this year for our team members! Each Monday in November, leading up to Thanksgiving, we have been giving away "turkey dinners" ($50 Hy-Vee gift cards), 40 total, to team members to spend however they choose. The final winners were announced yesterday through Dayforce. Congratulations to all of the winners!
In December we will be having raffles (one day per service line) to give away many prizes, including smart TVs, designer purses, holiday gifts, kayaks and other items. This will be on Zoom, live for your respective service line, so watch for additional communication so you can join your team on the call to see who wins! This is our 'Twelve Days' of Christmas Celebration! Each service line will be assigned to a dedicated raffle to ensure that all service lines are equally represented!
Hillcrest is only able to deliver on our mission and goals because of our team members! You are the ones who make a difference and impact lives every day.
Have a Blessed and Healthy Thanksgiving, from my family to yours. Thank you for all you do!
Make a difference every day!
Sharyl Ronan, CEO
CMO Corner
Vaccination Mandate
The Centers for Medicare and Medicaid (CMS) has mandated that all Hillcrest skilled facilities (HHR, HCE, HSL, HML and HFT), along with home health care, therapy, hospice and other individuals that routinely interact with these team members, be vaccinated by January 4, 2022. This mandate does not include team members who work exclusively in a Hillcrest assisted living or independent living community (HGL, HMR, HSR). The other two options to comply with the mandate is to have an approved medical exemption or an approved religious objection to vaccination. Hillcrest has created the forms for these exemptions, and you can request one from either your supervisor or service line administrator. Once you have completed the request for an exemption and given it to your administrator, they will summit it to TMD for review. All exemptions must be submitted no later than November 29 to be reviewed for approval no later than December 5. You will be notified if your exemption is approved within seven business days after submission.
We value your contribution to the seniors we serve and understand that there may be other reasons why you may not want to be vaccinated and do not qualify for an exemption. While you will no longer be able to work in a skilled facility after January 3, we would appreciate the opportunity to work with you and your administrator to find you another position within the Hillcrest family. I do want to thank everyone who has been vaccinated, as our number of positive COVID cases has dramatically declined over that past several weeks and is less than what we are seeing in the community.
Lastly, if you are six months past completion of the Pfizer or Modera vaccine or two months past the single-dose J&J vaccine, you are eligible for a booster dose. I would highly encourage you receive this booster dose, as we are beginning to see more breakthrough infections in fully vaccinated individuals. Thanks, everyone, for keeping our seniors safe, and have a wonderful holiday season! 
Dr. Anthony Hatcher, CMO
Nominate a Team Member for a Star Award!
As part of The Hillcrest Way, team members and customers can now nominate team members for Star Awards when they go above and beyond to serve our customers. All nominations are reviewed and approved by the team member's service line administrator. To nominate someone for a Star Award, visit
hillcresthealth.com/star
or access the form on the right sidebar of the Intranet under the Team Member Handbook.
  Follow us on social media!