Date/Time
Date(s) - 11/08/2018
9:00 am - 10:00 am
Location
Bellevue Lied Center
Categories
Join us for an educational breakfast series presented by Hillcrest Physical Therapy:
EXERCISING YOUR BODY, MIND AND SOLE
As individuals age, many encounter a pattern of decline that reduces their ability to have fun and complete everyday activities. This series is designed to educate participants on how to take steps to improve their quality of life and to counter effects normally associated with aging.

Exercising Your Body: Presented by Paul Gardner, PT, GCS, Director of Home and Community Rehab Services, Hillcrest Rehab Services
Declining muscle strength is a condition that affects many older Americans. This decline results in reduced ability to participate in sporting activities like golfing or running, to more everyday activities like yard work and playing with grandchildren. This session will educate participants on strengthening principles, including the type of strengthening activities one should incorporate to deter weakness normally associated with the aging process. Continental breakfast provided.
Paul has been a certified geriatric clinical specialist for nearly 10 years. A graduate of UNMC, he has lectured at Creighton University, in the broader community advocating for active aging and frequently educates team members within the Hillcrest organization.
Events for this presentation have passed. 
Exercising Your Mind: Presented by Grace Knott, PT, GCS, Administrator of Post-acute Rehab Services, Hillcrest Rehab Services
Over 16 million people in the US are living with cognitive impairments. As individuals age, many believe there is little control they can do to manage or even prevent declines associated with cognitive impairment. However, research is telling a different story. Having a positive perception of aging, remaining socially active and pursuing lifelong physical fitness are all strategies that have been associated with reduced cognitive impairment. This presentation will educate participants on how to prevent cognitive impairments and how to manage impairments that may exist. Continental breakfast provided.
Grace is a graduate of Kansas University in physical therapy and has extensive experience in acute, skilled nursing and outpatient settings as both a clinician and a manager. Her passion is working with the older adult, especially in the areas of fall risk reduction, dementia care and optimal aging. She is a frequent lecturer for the Omaha "Tai Chi for Balance" community program and lectures in the area of dementia-related therapy services. Grace is the current Nebraska Physical Therapy Association President.
Events for this presentation have passed.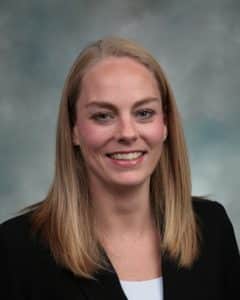 Exercising Your Sole: Presented by Sarah Blomenkamp, PT, GCS, CEEAA, Outpatient Physical Therapist, Hillcrest Rehab Services
Each year, one in three Americans fall, often resulting in injury or hospitalization. There are several evidence-based programs that have demonstrated reduced fall risk for those participating. This presentation will educate participants about the common reasons individuals fall and provide several simple strategies to reduce fall risk. Continental breakfast provided.
Sarah is a graduate of the physical therapy program at UNMC. In addition to being recognized as a Geriatric Clinical Specialist, Sarah also achieved recognition as a Certified Exercise Expert for the Aging Adult. She specializes in treating individuals with balance dysfunctions, Parkinson's syndrome and chronic pain conditions. As a clinician serving individuals in the community, Sarah strives to educate clients to have the tools to treats themselves long after they leave the clinic doors.
Thursday, Nov. 8,

9 a.m., Bellevue Lied Center – RSVP by Monday, Nov. 5